As I closed my planner, I realize Monday will be tougher than usual. We've all lost an hour.
Yikes.
Last Monday, we had art and music.  It was a scheduling mistake.  I remember a comment, "This is the best Monday ever. Why can't all Mondays be this way?"
Sigh.
This Monday starts a two-week mini test prep unit.
Gag.
I know every minute counts. And I know the energy level counts.
Choke.
Can this Monday be brighter with some slight adjustments?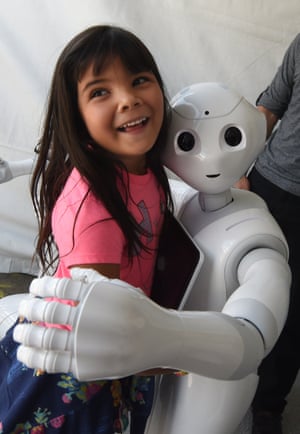 Art? Could we use it? Photos?
We've been reading The Wild Robot.
I Google robot pictures.
Isn't she darling? What if six-year-old Yaretzi Bernal and Pepper the 'social' robot is our inspiration?
What writing tools would we need to tell a story of this picture? How might that story go?
What would we need to write an informational article? How could we start it?
What's your opinion about having a robot as a friend?  What would we need to write an effective argument for or against robot friends?
Not exactly music and art, but a better plan than I had… for a Monday.
I move my Monday plan to Tuesday. When we're all more awake.
Thank you, Two Writing Teachers for the March Slice of Life Challenge. Read more slices here.